Everybody's Talking About Jamie
Guess what guys?! I'm returning to the glittering West End reprising my role as Hugo Battersby, the washed-up Drag Queen Loco Chanelle, in the Olivier -nominated production at The Shaftesbury Apollo.
It runs until Sept 26th. See website for details- https://www.everybodystalkingaboutjamie.co.uk/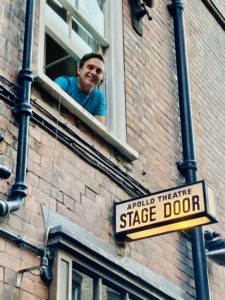 Red Riding Hood
Add more theatre to the year…I'm over the moon to announce that I'll be playing Granny Hood (the Dame) in my first ever panto at the legendary Theatre Royal Stratford East in Newham. The Theatre Royal panto is one of the oldest, most established and hilariously fun pantos in the UK. Red Riding Hood runs from November 27th to Dec 31st. Way too much fun for the whole family.
See website for ticket details- https://www.stratfordeast.com/whats-on/all-shows/red-riding-hood
Join the conversation #StratfordPanto
The Delivery Room @ Camden Comedy Club
As the founder of the legendary new material night Old Rope, I'm so pleased to be bringing back a fresher, younger, more unpredictable new material night, The Delivery Room.
Originally housed in the basement bunker at The Tap Room in Islington, this weekly showcase of new material has moved to the Camden Comedy Club at The Camden Head On Camden High road. Now, presented in association with StripLight Productions we are running monthly shows on the first Sunday of the Month.
With my new co-host, the fantastic Chloe Petts, we have a wonderful mix of veterans, TV names and the best newcomers in the business trying their new material and having a blast. Only £5 a ticket it's a must see show!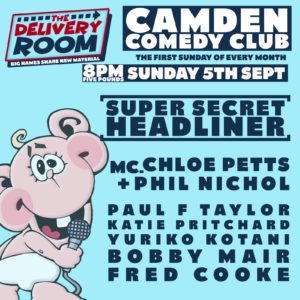 The Best New Material Night in Town