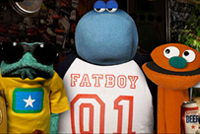 Fur TV was a comedy puppet show produced by MTV Networks Europe and aired on MTV channels world-wide voiced by Henry Trotter, Simon Greenall and me.
I played Fat Ed, a foul-mouthed, violent, beer swilling heavy metal obsessive.
Henry was Lapeño, a Brazilian sex god who is irresistible to women and Simon Greenall was Mervin, a perpetually cross-eyed, mentally retarded, perverted, self-abusing fanatic with a chronic addiction to masturbation.
Directed by Henry Trotter and Produced by Chris Wiatt for Warp X.